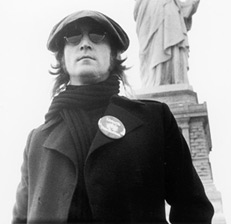 JOHN LENNON DOCUMENTARY TO SHAKE UP THE POLITICAL LANDSCAPE


EXCLUSIVE:

Yoko Ono on John Lennon and the FBI



By JONATHAN KARL

John Lennon's perceived "threat" to the U.S. government is the highlight of a new film that documents his transformation from pop idol to political activist and offers a fresh look at this former Beatle's career.

"The U.S. vs. John Lennon" will be released later this month. Yoko Ono cooperated with the filmmakers, opening her archives of rarely seen footage of the couple's fight for peace.

"One thing that brought us together was the fact that both of us were rebels in so many ways," she said.

And that's something he didn't always share with his bandmates, who were reluctant to join Lennon as he spoke out against the Vietnam War, said Ono.

"He is the only one who really wanted to do something about it when he was a Beatle," Ono explained.

Star Watched by the FBI

Lennon's rebelliousness may have come at a price. In the 1970s, Lennon was convinced that government agents were watching him. As it turns out, he was right.

Almost 20 years after his death, the government released the FBI file on Lennon, which included nearly 300 pages of text. One document that went from the FBI to the CIA reports that Lennon planned to take part in a protest at the 1972 Republican National Convention.

South Carolina Sen. Strom Thurmond seized on that, suggesting to President Nixon's attorney general that Lennon's visa be terminated.

A few weeks later, Lennon was given 30 days to leave the country and was notified that his visa had been terminated because of an old drug arrest in England.

"I think that the world really loved the Beatles for being charming and sweet," Ono said. "But some people did resent the fact that they were no more the sweet, nice, charming boys."

Ono and Lennon did not want to leave the United States, and a legal battle ensued.

In 1976, after the end of the Vietnam War and the Watergate scandal, Lennon won.

The judge in the case wrote that the British singer's battle to stay in the United States was a "testimony to his faith in the American dream."

http://www.theusversusjohnlennon.com/site/trailer.html

John Lennon's Anniversary to Become One of 'Worldwide Healing'



John Lennon's widow Yoko Ono made a call to transform her former husband's anniversary into a day of worldwide healing, by apologizing to everyone who suffered from violence and war. Ono also thanked the people who have given her comfort through the years since Lennon was gunned down.

In a full-page advertisement in yesterday's New York Times, Yoko Ono urges readers to mark the anniversary by apologizing to those who have suffered because of violence and war. "Every year, let's make December 8th the day to ask for forgiveness from those who suffered the insufferable," writes the musician's widow, who signs the letter with the name Yoko Ono Lennon.

John Ono Lennon, MBE (born John Winston Lennon, October 9, 1940 – December 8, 1980) had one son, Julian, with his first wife, Cynthia; he later married his second wife, artist Yoko Ono, and they had one son, Sean. John Lennon was murdered in New York City on December 8, 1980 by a deranged fan, as he and Ono returned home from a recording session; he was, and continues to be, mourned throughout the world.

"Know that the physical and mental abuse you have endured will have a lingering effect on our society," she writes in a portion of the letter directed to victims. "Know that the burden is ours." "Forgive us."

Lennon was usually considered the "leader" of The Beatles, as he founded the original group, inviting his art school friend Stuart Sutcliffe and McCartney to join; McCartney in turn invited Harrison. But most group decisions were democratic, with the unwritten rule that if any member objected to an idea, the group wouldn't pursue it. In 2002, the BBC polled the British public about the 100 Greatest Britons of all time. Respondents voted Lennon into eighth place.

Of her own loss, Ono says: "I don't know if I am ready yet to forgive the one who pulled the trigger . ... But healing is what is urgently needed now in the world." "Let's wish strongly that one day we will be able to say that we healed ourselves, and by healing ourselves, we healed the world."

On March 20, 1969, Lennon and Ono were married in Gibraltar, and spent their honeymoon in Amsterdam in a "Bed-In" for peace. Behind their bed were posters displaying the words "Hair Peace. Bed Peace." They followed up their honeymoon with another "Bed-In" for peace, this time held in Montreal at the Queen Elizabeth Hotel. During the second "Bed-In" the couple recorded "Give Peace a Chance", which would go on to become an international anthem for the peace movement. They were mainly patronised as a couple of eccentrics by the media, yet they did a great deal for the peace movement, as well as for other related causes.

At 10:50 p.m. on 8 December 1980, Mark David Chapman deliberately shot and fatally wounded John Lennon in front of Lennon's residence, the Dakota, when Lennon and Ono returned from recording Ono's single "Walking on Thin Ice" for their next album. John Lennon, at the age of forty, was pronounced dead on arrival at Roosevelt Hospital at approximately 11:15 p.m. by Dr. Stephen Lynn.

Yoko Ono, crying "Tell me it's not true," was taken to Roosevelt Hospital and led away in shock after she learned that her husband was dead. Geffen later issued a statement in her behalf: "John loved and prayed for the human race. Please do the same for him." On 14 December 1980, all around the world, people paused to stand alone or come together in silence, heeding a plea from Yoko Ono that they take 10 minutes to remember the former Beatle.

John_Lennons_Anniversary_One_of_Worldwide_Healing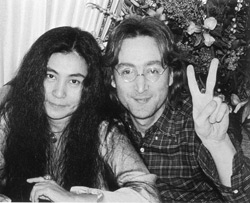 Gimme Some Truth


The John Lennon FBI Files
Jon Wiener

Introduction
When FBI Director J. Edgar Hoover reported to the Nixon White House in 1972 about the bureau's surveillance of John Lennon, he began by explaining that Lennon was a "former member of the Beatles singing group." Apparently Hoover wanted to show that although he was no rock fan, at least he knew who Lennon was. When a copy of this letter arrived in response to my 1981 Freedom of Information Act (FOIA) request, the entire text was withheld, as were almost 200 other pages, on the grounds that releasing it would endanger the national security. That seemed unlikely. So, with the help of the American Civil Liberties Union (ACLU) of Southern California, I filed a lawsuit under the FOIA in 1983, asking the court to order the release of the withheld pages. Fourteen years later, after the case went to the Supreme Court, the FBI finally agreed to settle almost all the outstanding issues of the case, to release all but ten of the documents, and to pay $204,000 to the ACLU for court costs and attorney fees. The most significant 100 pages of the Lennon file are reproduced in this volume.

The Lennon FBI files document an era when rock music seemed to have real political force, when youth culture, for perhaps the first time in American history, was mounting a serious challenge to the status quo in Washington, when President Nixon responded by mobilizing the FBI and the Immigration and Naturalization Service (INS) to silence the man from England who was singing "Give Peace a Chance" at his first live concert in the United States since 1966. Lennon's file dates from 1971, a year when the war in Vietnam was killing hundreds of thousands, when Nixon was facing reelection, and when the "clever Beatle" was living in New York and joining up with the antiwar movement. The Nixon administration learned that he and some radical friends were talking about organizing a national concert tour to coincide with the 1972 election campaign, a tour that would combine rock music and radical politics, during which Lennon would urge young people to register to vote, and vote against the war, which meant, of course, against Nixon.

The administration learned about Lennon's idea from an unlikely source: Senator Strom Thurmond. Early in 1972 he sent a secret memo to Attorney General John Mitchell and the White House reporting on Lennon's plans and suggesting that deportation "would be a strategy counter-measure" (see figures 1-3).

That was exactly the sort of thing John Dean, the counsel to the president, had suggested in his famous 1971 memo: "We can use the available political machinery to screw our political enemies." The word was passed to the INS, which began deportation proceedings a month later.1 The Nixon administration's efforts to "neutralize" Lennon-their term-to silence him as a spokesman for the peace movement, are the central subject of Lennon's FBI file.

Throughout fourteen years of FOIA litigation over the files, which began in 1983, the FBI maintained that its surveillance of Lennon was not an abuse of power but rather a legitimate law enforcement activity. It's true that in 1972 Lennon associated with antiwar activists who had been convicted of conspiring to disrupt the Democratic National Convention four years earlier. It's true that he spoke out against the war at rallies and demonstrations. But the files contain no evidence that Lennon committed any criminal acts: no bombings, no terrorism, no conspiracies. His activities were precisely the kind protected by the First Amendment, which is not limited to U.S. citizens.

The story of the Lennon files is also the story of the fourteen-year legal battle to win release of the withheld pages, a story about the ways the Reagan, Bush, and Clinton administrations resisted the requirements of the FOIA. The basic issue here was not simply John Lennon. The basic issue was that government officials everywhere like secrecy. By keeping the public from learning what they have done, they hope to avoid criticism, hinder the opposition, and maintain power over citizens and their elected representatives. Classified files and official secrets lie at the heart of the modern governmental bureaucracy and permit the undemocratic use of power to go unrecognized and unchallenged by citizens.

Democracy, however, is not powerless before this practice. In the fight against government secrecy, America has led the world. In 1966 Congress passed the FOIA, which requires that officials make public the information in their files to "any person" who requests it, unless it falls into a small number of exempted categories, including "national security." The Act was substantially expanded in 1974 in the wake of revelations of White House abuse of power during the Watergate scandal. The FOIA, in effect, created a notable challenge to the history of government secrecy; it provided a set of rules and procedures, officials and offices dedicated not to the collection and maintenance of secrets but rather to their release to the public. Journalists, scholars, and activists have used the FOIA to scrutinize the operations of government agencies and expose official misconduct and lying, including the FBI's illegal efforts to harass, intimidate, disrupt, and otherwise interfere with lawful political actions. The John Lennon FBI files provide an example.

Before considering that history, it's important to acknowledge that the FOIA in many respects has been a spectacular success, as Americans have demonstrated animpressive appetite for government information. In 1990, for example, federal agencies received 491,000 FOIA requests and spent $83 million responding to them. The Defense Department received the most, 118,000 requests, while the FBI received 11,000, and the CIA, 4,000. The FOIA further requires that agencies report the extent of their denials of such requests: the agency with the highest denial rate in 1990, strangely enough, was the Office of Ethics, which refused to release 75 percent of requested documents. In contrast, the Department of Health and Human Services denied only 2 percent of the requests it received. The staff at the FBI's Freedom of Information Section processing FOIA requests consists of eight agents and 245 support employees, 65 of whom work on national security declassification. In 1990, 421,000 previously classified pages were released; requesters filed 993 administrative appeals of decisions to withhold documents; 263 requests that had been denied were in litigation.2

The most fundamental justification for governmental secrecy is "national security." Thus the FOIA exempts from disclosure any material "which reasonably could be expected to cause damage to the national security."3 What constitutes a "reasonable expectation" is obviously the issue. Because of the long-standing belief in the legitimacy of keeping secret diplomatic and military information, the claim that releasing any particular document could reasonably be expected to damage "national security" has been difficult to refute, which opens the FOIA to abuse by officials with something to hide. How federal officials have interpreted the national security exemption to the FOIA provides the most important test of government practice, and lies at the heart of the John Lennon FBI files litigation.

The original FOIA of 1966 had no provision for judicial review of "national security" information. The Act exempted material "specifically required by Executive Order to be kept secret in the interest of national defense or foreign policy." The law, however, contained no provisions authorizing courts to consider government decisions to withhold documents under the "national security" claim. In a 1973 Supreme Court ruling, Justice Potter Stewart pointed out this flaw: the FOIA provided "no means to question any Executive decision to stamp a document 'secret,' however cynical, myopic, or even corrupt that decision might have been."4 The Court went on to note that Congress could establish procedures to permit courts to review such decisions.

This use of the "national security" exemption to conceal government misconduct came to the fore in 1974, in the wake of the Watergate revelations of White House abuses of power. At that time the issue was framed in an apolitical way as a problem of "overclassification of national security information." Congress held extensive hearings documenting the problem and accepted the Supreme Court's suggestion, passing a series of amendments that significantly strengthened the FOIA, especially in relation to "national security" claims. The 1974 amendments instructed courts to determine de novo whether the national security exemption was being properly applied in particular cases. Courts were authorized to conduct in camera reviews of documents for which the government claimed the national security exemption. Most important, courts were empowered to overrule executive officials' decisions classifying documents under the "national security" claim. For the first time, courts could order the release of improperly classified documents. President Ford vetoed the legislation, objecting specifically to the provision empowering the courts to overrule executive branch classification decisions. This provision, he declared, was an unconstitutional infringement on executive power. Congress overrode Ford's veto, and the amendments became part of the FOIA. Nine years later, the ACLU of California asked the court to overrule the Reagan administration's claims that parts of the Lennon FBI file had to be withheld to protect "national security."

Secret government files like Lennon's have a history. The Cold War provided a great impetus to government secrecy, which was justified as a necessary response to Soviet efforts to "destroy our free and democratic system" at a time when their "preferred technique is to subvert by infiltration and intimidation," as the government explained in 1950 in the policy statement "NSC 68." Cold War presidents secretly authorized the FBI to monitor radical activists, who included not just potential spies or saboteurs but "writers, lecturers, newsmen, entertainers, and others in the mass media field" who "might influence others against the national interest," as the Senate's Church Committee explained after Watergate.5

But the federal government began spying on Americans long before the Cold War, as Daniel Patrick Moynihan observes in his book Secrecy. Most of the structure of secrecy now in place, he argues, has its origin in the World War I Espionage Act, passed into law in 1917 at the urging of President Woodrow Wilson. The former Princeton history professor declared in his 1915 State of the Union message that recent immigrants had "poured the poison of disloyalty into the very arteries of our national life," and he urged Congress to "save the honor and self respect of the nation. Such creatures of passion, disloyalty, and anarchy must be crushed out." Congress responded with the Espionage Act and, in 1918, the Sedition Act, which made it a crime to "utter, print, write, or publish any disloyal, profane, scurrilous, or abusive language about the form of government of the United States." It also made it a crime to "advocate any curtailment of production in this country of any thing . . . necessary or essential to the prosecution of the war."6

In fact the first FBI files on people suspected of disloyalty date from before World War I. The bureau was created in 1908; it opened a file on Ezra Pound in 1911, after he published in the first issue of The Masses, a socialist magazine. It opened a file on Max Eastman in 1912 on the grounds that he was editor of The Masses and "a true believer in free love." It opened a file on Walter Lippmann the same year, noting that the recent Harvard graduate was secretary to the socialist mayor of Schenectady. Herbert Mitgang and Natalie Robins have shown that the FBI kept files on at least 150 of the country's leading writers, from Sinclair Lewis to William Faulkner to Ernest Hemingway to Norman Mailer and James Baldwin.7 Thus the insatiable appetite of Hoover's FBI for derogatory gossip and malicious trivia, evident in the Lennon file, was nothing new. But unlike other writers and artists the FBI watched, Lennon wasn't persecuted simply because of what he thought or wrote. The Nixon administration was after him because of what he did-and what he planned to do.

The Lennon files constitute a small but significant chapter in the history of the sixties, and of the Watergate era, and also in the history of bureaucratic secrecy and government abuse of power. They confirm Richard Nixon's place in the annals of rock 'n' roll as the man who tried to deport John Lennon, and thus they support the claim that rock in the sixties had some kind of political significance. Of course some have seen Nixon's pursuit of Lennon as a simple case of paranoia, in which the president and the New Left shared the same delusion. But the record shows there was a rationale behind Nixon's campaign to silence Lennon that was not simply nutty. Lennon's plan to mobilize young voters against the war may not have affected the outcome of the 1972 election, but it had a clear and reasonable logic behind it.

The Lennon FBI files include some comic and hilarious moments. The FBI at points looks more like the Keystone Cops than the Gestapo. But the campaign to "neutralize" Lennon wasn't a joke; it was a crime.

The experiences of exaltation and anger that rock music provided in the late sixties were not in themselves political experiences. Lennon knew that. He also knew that rock could become a potent political force when it was linked to real political organizing, when, for example, it brought young people together to protest the Vietnam War. The Lennon FBI files chronicle Lennon's commitment to test the political potential of rock music. They also document the government's commitment to stop him. The investigation of Lennon was an abuse of power, a kind of rock 'n' roll Watergate.

http://www.theusversusjohnlennon.com/

Phil Donahue Makes Anti-War Film

Add the name of Phil Donahue to the list of people who've made documentaries about the effects of the Iraq war.

The legendary liberal talk-show host and renowned Ralph Nader supporter showed his film — which he called a work in progress — to a private screening group last week.

The film, "Body of War," is unfinished but riveting. It should make Tomas Young, its central character, a star on the lecture and possibly talk-show circuit, much the way Mark Zupan got recognition after last year's "Murderball."

Young, who was 24 years old, went to Baghdad in April 2004 as a very green solider. He'd enlisted right after Sept. 11, thinking he'd be sent to Afghanistan to hunt down the terrorists who caused the tragedies at the World Trade Center.

Within five days of arriving in Iraq, however, Young was caught in the same battle in Sadr City that killed Casey Sheehan, son of Cindy Sheehan, now a well-known activist. Young was shot through the chest, and the bullet severed his spine, leaving him paralyzed from the chest down.

Donahue, the story goes, met Young on a tour of Walter Reed Army Medical Center with Nader. Right away, he and filmmaker Ellen Spiro saw the potential for a movie based on this young man.

The Sheehan connection is not an important thread of the movie, yet one that Donahue drives home early nonetheless.

"Bush said he wouldn't meet with Cindy because he'd already met with her in 2004," Young says. "I figured my life has been severely impacted. So I wanted to hear his excuse about not meeting with me."

Donahue's film — like some others of recent vintage — traces Young's journey from soldier to activist. Throughout, he remains patriotic.

Young, a real Midwesterner from Kansas City, Mo. — started asking questions soon after his release from the hospital. Donahue's team follows him as he grows as a speaker and a voice for other vets.

And Young becomes politicized, too. By the end of the film he's meeting with Sen.Robert Byrd, who recalls the 23 other senators who voted against the Iraq war (Hillary Clinton and John Kerry, most pointedly, were not in that group).

Byrd, in fact, plays a big part in Donahue's film. The 88-year-old senator, with 47 years in office, not to mention six more in Congress, is used by Donahue as a Yoda of sorts for in the film and for the war. He's proud to be the leader of the 23 dissidents, and his scenes with the wheelchair-bound Young are poignant.

"Body of War" works on several levels, too. It's not just an anti-war tract. Donahue and Spiro, having complete access to Young, graphically record his medical saga as well. Some of this is not for the squeamish, but all of it is for us to see.

Not only does Young come home physically impaired, he then must deal with a basic medical bureaucracy. It's not like getting shot defending your country earns soldiers any leverage in obtaining proper treatment.

Donahue and Spiro have only just finished filming and have quickly put together a rough cut. I'm told several heavy insiders in the documentary world have seen "Body of War" already. I just hope Donahue and Spiro don't wait too long to release it. HBO would be the perfect venue to showcase Young's story.

And Donahue, by the way, says he will donate all the profits to the St. Jude Children's Research Hospital in Memphis, Tenn., a charity close to his wife, Marlo Thomas, and her late father, Danny, for the last several decades.

NO FIGHTING IN THE WAR ROOM

(OR DR. STRANGEOVE AND THE NUCLEAR THREAT)


Released in 1964, Stanley Kubrick's "Dr. Strangelove (Or How I Stopped Worrying And Learned To Love The Bomb)" is and remains a politically significant and relevant film. It was not, however, born in a vacuum or in the nether regions of a writer's imagination. The apocalyptic events portrayed in the film are a clear and present byproduct of dangerous times.

This incisive documentary celebrates this classic film by examining the Cold War environment that spawned it…why the film resonated so strongly with audiences in 1964…and why the film remains so powerful and relevant today.

All will be amply illustrated in numerous clips from the film…never-before-seen production stills…and rare and never-before seen or heard material from the private collection of the star of the movie, Peter Sellers.

Extraordinary commentary for this compelling special will be provided by Bob Woodward, Spike Lee, Roger Ebert and Robert McNamara (Secretary of Defense, 1961-68).

There will also be a biographical element as we briefly trace the life and career of Peter Sellers, showing how his early years prepared him for the extraordinary accomplishment of playing three great roles in DR. STRANGELOVE. Friends and colleagues such as Sir David Frost, Michael Palin, Shirley MacLaine, Richard Lester (Director of "A Hard Day's Night"), James Harris (Kubrick's partner) will reveal discuss the film and Sellers' part in its success, also revealing that he was a complex man, an intriguing brew of interests, emotions, contradictions and, above all else, talent.

Along the way, we will reveal many little-known or previously unknown facts about the making of DR. STRANGELOVE…Examine the unique working relationship between director Kubrick and star Sellers…How Sellers developed and portrayed three distinct characters and, had it not been for an unfortunate set of circumstances, would have managed a fourth….we'll also discuss the legendary "lost ending" also known as "The Pie Fight" sequence, illustrated with rare and never-before-seen photographs.

To be included as Bonus Material on the Columbia Tristar Home Entertainment deluxe edition re-release of the movie on October 28th, 2004.

This documentary...along with a tribute to Peter Sellers and LSL's complete interview with Robert McNamara...is included on the 2-DVD 40th Anniversary Special Edition of DR. STRANGELOVE, now available from Columbia Tristar Home Entertainment.

http://www.lslproductions.com/shows.htm

Bruce Lee to Get Own Theme Park in China

HONG KONG (AP) - A theme park with a statue and memorial hall will be built at Bruce Lee's southern Chinese ancestral home of Shunde, the president of his fan club said Monday.

The park will also contain a martial arts academy and conference center, Wong Yiu-keung, chairman of the Hong Kong-based Bruce Lee Club, told The Associated Press.

Wong said he couldn't confirm details of a report Monday in the Apple Daily newspaper that said the park was budgeted at $25.5 million and was expected to be completed in three years.

Wong said he attended the laying of the theme park's foundation in Shunde, near Hong Kong, on Sunday. He said Lee's younger brother, Robert Lee, and actress Betty Ting Pei also attended.

The newspaper said Ting donated a set of nunchucks - a weapon consisting of two sticks joined by a chain or rope - that Lee once used.

Lee, who was born in San Francisco, died of an edema, or swelling of the brain, in Hong Kong in 1973. He was 32. His action films included "Fists of Fury" and "Enter the Dragon."

Wong said he wasn't certain who is funding the theme park.

Help
Stop
Genocide


in

Darfur

!
Click Here!